Routine Commercial Lawn Mowing Services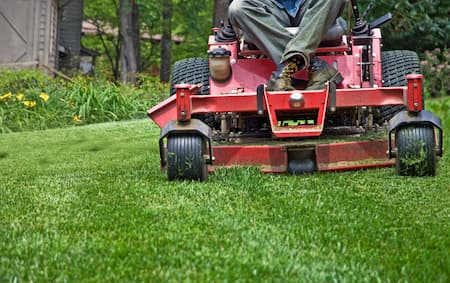 Fralich's Landscape is proud to be the local leading landscaping service provider for tasks like commercial lawn mowing in Greenfield. Although we started the business in 2006, we bring with us over 20 years of hands-on experience in the landscaping industry. The bottom line is that we understand the importance of quality workmanship when it comes to all aspects of commercial landscaping.
A well-kempt lawn can seem that much more important when it comes to your business because you need to make a good impression on both your current and potential clients.
With an impeccable reputation like the one we have built, it should come as no surprise that we take this line of work seriously. We will work with you in order to provide you with the quality lawn cutting work to keep your lawn looking its best. Let us provide you with the workmanship and customer service excellence that you deserve when it comes to commercial lawn maintenance in the Greefield area.
Local, Reputable Commercial Mowing Experts in Greenfield, IN
If you are not yet sure if you need mowing services from an industry expert, here are some points to ponder:
A well maintained lawn will give your business a clean and professional look.
Fist impressions are key. Some people associate an untidy lawn as a sign of a failing business.
Show your customers, and potential clients, that you mean business. Convey that you are successful. When you demonstrate to your customers that you believe in your business, they will too.
The Best in Quality Commercial Lawn Mowing in Greenfield
Help create a positive identity for your business and make a great first impression, by letting our pros handle your mowing service needs. At Fralich's Landscape, we take care of your lawn as if it were our own, if not better. We understand the importance of making a good impression for prospective clients, so let us take care of your yard work for you.
If you are looking for a local landscaping company that offers commercial lawn mowing services in Greenfield, IN or nearby, please call 317-477-0405 or complete our online request form.