Keep Your Greenfield Landscape Healthy With Irrigation Installation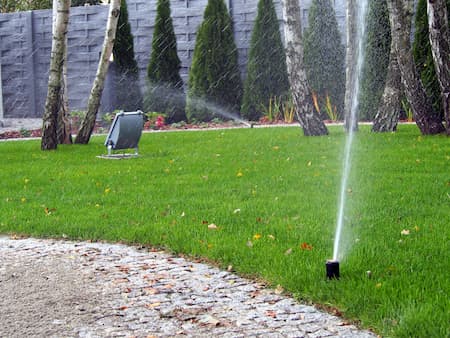 If you're one of the many Greenfield homeowners out there looking for ways to improve the health and beauty of your lawn and landscape, irrigation installation might be exactly what you've been looking for. A proper irrigation installation can help you conserve water, save money, and promote optimal plant growth, and here at Fralich's Landscape, we're the local landscaping service you can trust to help you with the process. Are you looking for a professional Greenfield landscaping company you can trust for your irrigation installation needs? If so, give our team of skilled professionals a call today and let us show you the kind of quality results that have helped make us the most trusted name for irrigation maintenance and irrigation maintenance the area has to offer.
There are a number of benefits that come along with a professionally installed irrigation system when compared to a simple hose-fed setup. With a professional irrigation installation, not only will you be able to almost automate the process, sparing you the time to do other things, it will also ensure you're getting water where you need it most, and you aren't over-watering your lawn in the process. If you have any questions about our full line of irrigation installation services, or if you would like to schedule an appointment for a consultation, give us a call today. Our team of experts is always standing by and would be happy to assist you in any way we can.
Greenfield Irrigation Installation Specialists
Our Greenfield irrigation installation specialists are experienced professionals who are dedicated to providing top-quality service to meet all of your irrigation needs. We are committed to ensuring your system is installed correctly and works efficiently to keep your lawn and garden healthy and beautiful. Trust our experts to provide tailored irrigation installation and lawn sprinkler installation solutions that meet your property's unique requirements.
Keep Your System In Top Shape With Irrigation Maintenance
Ensure your irrigation system stays in top shape and keeps your lawn and garden looking its best with our expert maintenance services. Our team of skilled technicians will inspect, clean, and tune-up your system to prevent leaks, clogs, and other common issues that can compromise its effectiveness. With regular maintenance, you can save water, reduce your utility bills, and enjoy a healthy and vibrant landscape year-round. Contact us today to schedule your maintenance appointment and let us help you get the most out of your irrigation system!
If you are looking for a local landscaping company that offers services related to irrigation installation in Greenfield, IN or nearby, please call 317-477-0405 or complete our online request form.