For Mulch Delivery, Call Fralich's Landscape!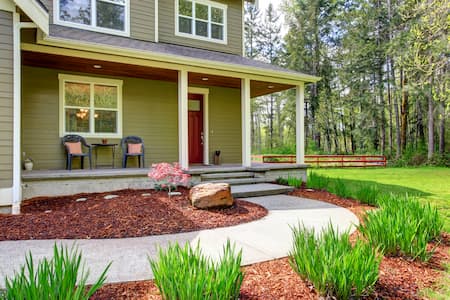 One of the landscaping services that we offer, that is of the utmost importance for your landscape, is our mulch delivery in Greenfield and surrounding areas. Mulch is an essential part of any successful landscaping layout and provides a number of important benefits. Yet, when you need the best in any service relating to your landscaping, you can depend on Fralich's Landscape to get the job done.
While our name has been around for over a decade, the combined experience backing us up covers well over two decades. We take this line of work seriously and that shows in the results that we are able to get for every one of our residential and commercial clients. The long term beauty and success of your landscaping is our top priority, which is why we recommend getting mulch.
Mulch adds its own rich visual aesthetics, but it is about more than that. It provides benefits that will help certain living aspects of your landscaping, in ways that nothing else can. Don't just take our word for it, let us help you gain more insight on what all this means.
Local, Reputable Mulch Delivery
Still on the fence about whether or not you want to mulch your gardens, or around the base of your trees? Here are some things that you should know about mulching:
Mulch retains water so that it will continue to help keep roots moist. Not only that, this is what helps to slow the process so the roots do not get water, all at once. An influx of water can drown the roots, and fail to continue to deliver water over time.
This material also acts as a buffer which helps reduce a fluctuation in hot and cold. By being able to maintain a more even temperature, it means less chance of extreme temperatures, or extreme changes in temperatures, from damaging the roots of the plant.
Mulch also plays a vital role in helping to prevent the compaction of soil. Soil compaction ends up starving the roots of vital nutrients, including oxygen and water. The only way to counterbalance that is to use aeration. However, mulch does not compact nor require tilling.
Of course, it also happens to look alluring and helps make your plants become the focal point of the landscape design.
Your Source for Mulch Delivery in Greenfield & Nearby
If you are ready to get your mulch delivery, and start taking advantage of the many benefits, call Fralich's Landscape. Our name has become synonymous with expert quality and we work with both residential and commercial clients. We take great pride in the work that we do and that shows in the results that we are able to get for each of our clients.
If you are looking for a local landscaping company that offers mulch delivery in Greenfield, IN or nearby, please call 317-477-0405 or complete our online request form.