Local Leading Fishers Landscape Design & Landscaping Services Provider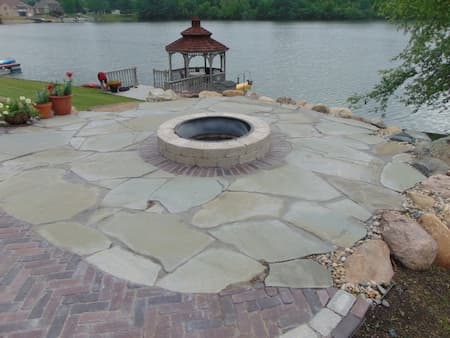 Any Fishers landscape design pro will tell you, that effortlessly stunning looking yard you want is anything but effortless. It takes a lot of work to look that naturally gorgeous. However, this is exactly the type of landscaping work that we can do for you, here at Fralich's Landscape. We take this line of work seriously and that show in the results that we are able to get for our clients.
It takes hard work to establish the grass, design the landscape layout and install the plants and hardscapes. Even after all of that is complete, it takes more difficult workmanship to maintain it and keep it looking well manicured. This is the type of work that we can take care of for you, so all you have to do is effortlessly enjoy it. Our team is skilled at everything from landscape design and hardscaping to commercial lawn maintenance and mulch delivery in Fishers, IN.
There is no reason to settle for inferior results or end up paying too much for quality work. We provide you with the best of both worlds – superior work for a more than reasonable price. Get in touch with us now, in order to set up a time for us to come and take care of your residential or commercial service needs.
The Finest Landscapers Fishers Has to Offer
You cannot be the premier service provider without making it a point to offer the best in quality as well as variety. We offer an assortment of important service work, so that all of your service needs are met. Some examples include:
Landscape Sodding – As close to instant lawn as you can get. We roll out the sections of grass and help get them established so that you don't have to wait for the seeds to grow.
Block Walls – This may be purely looks, or it may be functional. But you can rest assured if the main point is function, it can still look amazing.
Commercial Bed Care – Getting the beds in place is one thing, helping to keep them looking amazing is another. We can work with you to make sure that you get the maintenance and upkeep needed to get the job done.
The bottom line is that we offer a myriad of landscaping services in Fishers, IN that will benefit your residential or commercial property.
Essential Snow Removal & Ice Control for Fishers, Indiana
You can feel good knowing that we will also provide you with the essential snow removal and ice control required to get you through the winter months. Fralich's Landscape is dedicated to making sure that you get whatever it is that you need, for your exterior. We look forward to showing you, in person, how we have earned the impeccable reputation that we have as a local Fishers landscaping company.
If you are looking for a landscaping company that offers maintenance and landscape design in Fishers, IN please call Fralich's Landscape at 317-477-0405 or complete our online request form.