Local Leading Geist Landscape Design & Landscaping Services Provider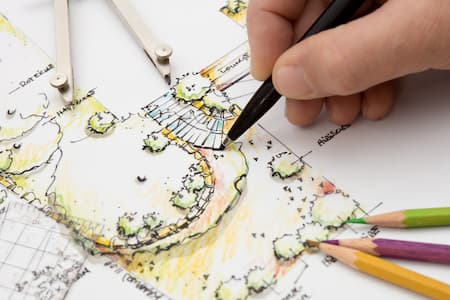 Everyone wants the perfect lawn, but not many ever actually achieve it. This is especially true if you intend to try to DIY your Geist landscape design planning or let someone lacking the credentials necessary try to take care of your landscaping needs. Your yard can be as simple and clean or as elaborate and ornate as you would like, it is all up to you.
What does matter is that you partner with Fralich's Landscape in order to achieve the final look. We know how to combine form and function, in order to take care of both. Many commercial properties need features that make the outside more utilitarian, but that does not mean it should have to look this way.
For your home or business, we can make sure that you get the best plan in place and execution of the final landscape design. Not to mention, we can provide you with the best following care that will help keep your yard looking its best, for years to come. Don't settle for less than the best, when it comes to the work that is invested into your landscaping in Geist, IN. Call Fralich's Landscape today for everything from routine maintenance to hardscaping, landscape installation, and mulch delivery in Geist, IN.
The Finest Landscaper Geist Has to Offer
In order to truly earn the title of being the number one service provider for local landscaping service needs, it is important to offer a variety of essential work. A small sample of what we have to offer includes:
Landscape Grading – In order to have an even and flat surface to work with, you need professional landscape grading. Without experience workmanship, this could end up just sending water towards the foundation of your home, or towards the homes of neighboring buildings.
Landscape Installation – Of course you cannot get your design in place, without the installation work. Let us provide you with skilled install work for everything from your rock wall to your blooming buds.
Shrub Trimming – Want your commercial property to look its very best? Part of that includes dealing with the need for shrub trimming. This not only enhances the look, it helps to protect the well-being of the plant.
The bottom line is that we take great pride in the work that we do and that shows in the results we deliver.
Essential Snow Removal & Ice Control for Geist
So do you know who you will be calling on in order to help with the burden of cleaning up after inclement winter weather? The good news is that you already have the answer to that too. At Fralich's Landscape we literally are your one-stop shop for your necessary exterior services, including landscaping and snow and ice removal.
If you are looking for a landscaping company that offers maintenance and landscape design in Geist, IN please call Fralich's Landscape at 317-477-0405 or complete our online request form.