Block Walls Installed by Local Hardscaping Experts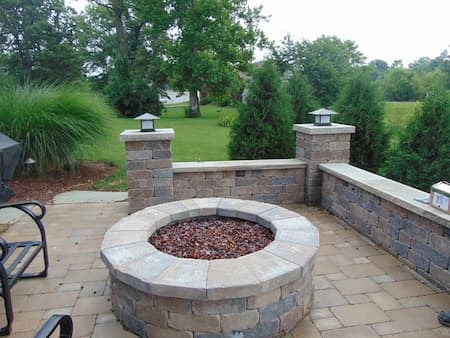 Another common aspect of professional hardscaping is adding block walls to landscape designs. Also commonly referred to as a retaining wall, depending on the individual circumstances, these walls are meant to beautify, as well as serve a functional purpose. What matters most is that you make the wise decision to call on Fralich's Landscape to get the job done. We're the local experts when it comes to building block walls in the Greenfield area.
Garden walls require serious planning and skill, in order to get long lasting results. The last thing that you want is to end up with inferior quality and a structure that needs ongoing repair and maintenance. Not to mention, this will make it difficult for the wall to do the job it was intended for.
Let us put our over 20 years of combined landscaping experience to work for you. We will survey your property and come up with a skillfully thought out design and plan of execution. Contact us today to get started.
Local, Reputable Retaining Wall Experts
Thinking about adding a block wall to your property? Or maybe you have been instructed that you need one in order to act as a retaining wall. Either way, some of the benefits that you should be aware of include:
This is an ideal way to provide functional support in order to keep soil in place. This is usually to keep the soil from a hill from sliding down, especially on top of or against a structure, such as your home. It can also be a method utilized to create a flat surface, sometimes necessary in order to create a yard for recreation or landscaping.
A hardscape structure like this can be instrumental in preventing problems like sinkholes. It can also help to eliminate an existing eyesore, like a hill or dirt mound.
Of course a wall could also help to prevent damage to property or nearby structures. They must be built strong enough to take on wear and tear that can pose a threat to any aspect of your property.
A block wall or retaining wall can be helpful for reducing maintenance needs and preventing soil erosion. This helps keep the ground even and in tact, while also ensuring that your home is protected from collapsing dirt.
The Best in Quality Block Wall Building in Greenfield
There are certainly plenty of other advantages to adding a block wall to your commercial or residential property. Make the smart call and contact us here at Fralich's Landscape, in order to find out how this can benefit you. One thing is for certain, the work we provide will both beautify your property and hold up against the elements.
Photos of Our Block Walls
If you are looking for a local hardscaping and landscaping expert that installs block walls in Greenfield, please call 317-477-0405 or complete our online request form.