Making the Most of Your Landscaping With a Paver Patio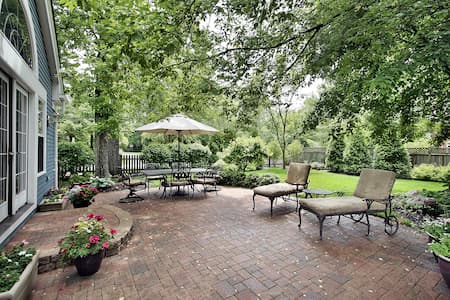 The recent trend in outdoor living spaces, here in Greenfield and across the country, comes as no real surprise. Savvy homeowners are finally realizing that they should be taking advantage of all of their home, including the land outside their four interior walls.
While these spaces can get quite elaborate and include your very own brick pizza oven, for many people building a paver patio in Greenville is quite enough. Or, at the very least, this is the ideal place to start.
Of course, there are other building material options for creating a patio on your property and incorporating it into your landscaping design. However, there are also many reasons that pavers are a great choice, so let's review some of these in order for you to make your final decision.
Understanding the Popularity of Paver Patios
Simply put, paver stones are about as ideal as it gets for using outdoors, especially when it comes to creating a patio. Here are some of the reasons why:
Let's face the facts, one of the big benefits is that this material is so affordable. It certainly does not hurt that you will be able to stretch your outdoor living space budget further by opting for working with pavers.
There are a variety of different shapes, styles and colors. This means that your finished product can be one of a kind and unique to your individual taste and style. You can make your patio as clean and simple or elaborate and ornate as you would like.
They are durable and easy to clean, especially if they have been sealed. Adding sealant will help prolong the lifespan and provide you with peak performance and maximum longevity.
A paver patio is easy to install and that means you spend less on the installation, as well. It is, however, something that should still be taken care of by an industry expert.
This is also an ideal choice for any size patio. Some homeowners prefer small and intimate spaces while others want a surface area large enough to host an entire family reunion cookout. These can accommodate anything.
Pavers look great for walkways, too. This means that you can create a stunning looking pathway leading to and from your paver patio that will match and look cohesive.
The Landscaping Company to Call for Paver Patios in Greenfield
Now all you need to know is who to call on to answer questions and take care of the skilled workmanship. For the best in paver patios in Greenfield, and all landscaping work, you can trust Fralich's Landscape. We take great pride in the work that we do and that shows in the results that we are able to get.
If you are interested in transforming your landscaping with a patio in Greenfield, call Fralich's Landscape at 317-477-0405 or complete our online request form.