Time to Start Thinking About Snow Removal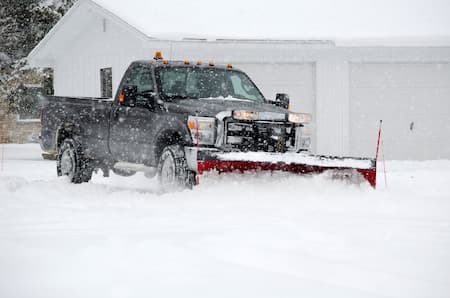 Sure, this week's highs are in the 90's and the last thing that you can think about is cold weather, but it's coming. Just like last year and just like next year, winter will arrive this year and you will realize how ill-prepared you actually are. Savvy local Greenfield homeowners know that being prepared for the upcoming season is an important way to avoid problems.
Too many homeowners plan in the now and then when the season change they find themselves in the weeds. There is a lot of responsibility that comes with owning a home, and knowing how to prepare ahead of time is a vital one. So as summer gets ready to draw to a close, now is the perfect time to plan ahead for the winter snow removal team you will need.
Those locals who wait and make the erroneous decision to procrastinate, are usually the ones who end up with their property buried in snow and no way to get rid of it. Try to locate a professional during the height of snow season peak and you are going to be out of luck. Or, the so-called pro who is available will quickly demonstrate the reason that they didn't already have work.
Why Go Pro?
It is a common mistake that people make, thinking that they can handle their own winter weather mess cleanup. Yet, the truth is that this really is a job best left to industry professionals. Here are a few reasons why:
Our Landscaping team has better equipment. That means the work that we do will be fore efficient and more effective. Letting vocational snow removal experts handle the job for you means being able to ensure that the snow will be removed but that it will take less time and be addressed in a prompt and professional manner.
Save yourself from unnecessary injuries or health-related problems. Every year, people end up in the emergency room as the result of trying to handle their own snow cleanup work. There are a variety of problems that can arise. Most commonly, strained backs and heart attacks are widely reported. When you spend most of the year not being very physically active and then suddenly try to take on a job that's this physically demanding, the results can be disastrous if not deadly.
This is also the ideal way for you to focus on what you do best – run your household or commercial business. One of our areas of specialty just happens to be snow removal. So let us take care of that while you address your need to man the daily operations at home or for your business. There is no need to take on the added stress of worrying about snow cleanup when you can delegate that to a more qualified professional.
Obviously, this is a much smarter step to take as opposed to the alternative of neglecting to address the need for snow removal, at all. As pretty as falling snow can be, it also poses a huge safety risk. From slip and falls to car accidents, clearing it away is a must. In fact, for your property, this is your responsibility and, fail to address the need, you could end up being held liable for injuries or property damage that occurs.
Sign Up For Expert Help
The time to deal with snow removal service is now. This is the time to start interviewing potential candidates to take on the job, and go ahead and lock yourself into service. Waiting until you are in the midst of a severe winter storm to try to take care of this is not going to get you the results that you want.
Ask around and locals will tell you that Fralich's Landscape provides the best service for the optimal results. We make the smooth transition from summer service to winter, so that you don't even have to give it another thought. Get signed up now for snow removal service and have peace of mind winter weather will no longer be a problem you have to address.
If you are looking for a local landscaping company that offers professional snow removal in Greenfield, IN or nearby, please call 317-477-0405 or complete our online request form.